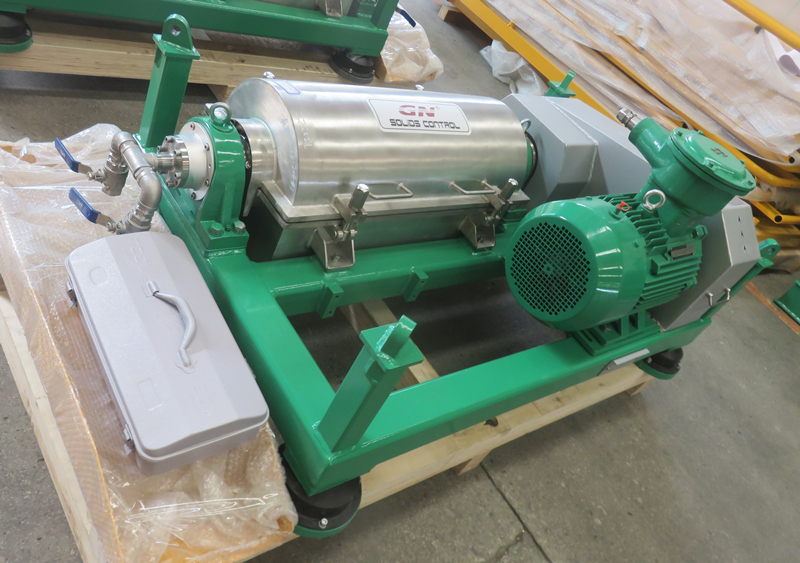 GN Solids Control is a leading decanter centrifuge manufacturer, who can provide different rotating bowl sizes of decanter centrifuges such as 9 inch, 14 inch, 18 inch, 22 inch and 30 inch. GN made decanter centrifuges are largely using in solids and liquid separation, like drilling mud from oil and gas industry.
In fact, besides the oil & gas drilling mud industry, GN Solids Control made centrifuges are also largely used in diamond core drilling industry. GN Solids Control last week shipped another 2 sets of portable decanter centrifuges to a Mexican client.
GN 9 inch bowl centrifuge, is also called GN 'Baby Centrifuge', with compact structure and effective treating performance it is largely used in small flowrate treating industry. GN Solids Control builds around 200 sets 9 inch centrifuges every year, most of them are using in the diamond core drilling mud dewatering.
GN 9 inch centrifuge rotating bowl is made of duplex stainless steel, screw propeller inside the rotating bowl is protected by the tungsten carbide tiles along the edge with tungsten carbide inserts on the solids discharge port. Two main bearings are world famous brand. GN Solids Control centrifuge is one of most effective solids removal unit as it can separate out solids larger than 2-5 microns, while with the adding of flocculant, GN decanter centrifuge is able to remove even finer particles from the drilling mud.
Besides the standard GN decanter centrifuge, GN Solids Control also provides turnkey solids and liquid removal unit, includes a pretreating shale shaker, decanter centrifuge and a mud tank. Shale shaker can remove big particles before feeding into decanter centrifuge.

In the oil and gas industry, the most popular centrifuge is actually 14 inch bowl centrifuge or 18 inch bowl centrifuge. While in the TBM industry 22inch and 30 inch is the most popular one. GN Solids Control always has the right model for your particular solids and liquid separation demands, please connect with GN sales rep. for the most cost-effective solution.