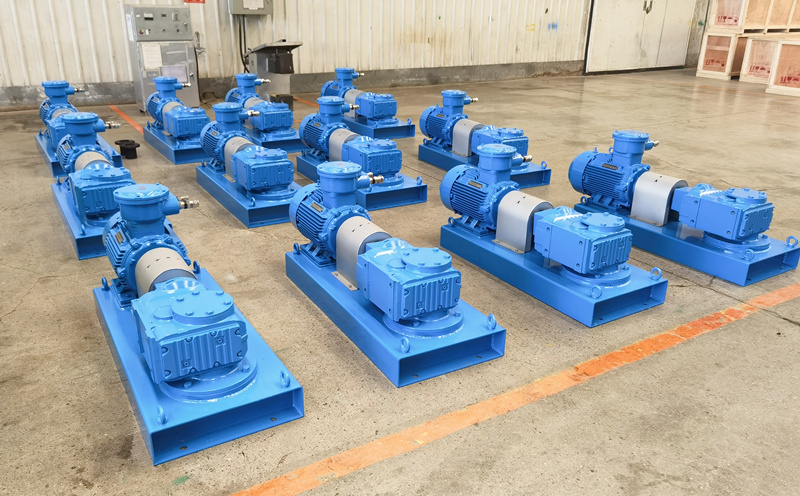 GN Solids Control is a world famous turnkey provider of solids control equipment for oil and gas drilling fluids. GN Solids Control has rich experience on design, development, and manufacture solids control equipment includes but not limited to shale shaker and shaker screen, decanter centrifuge, desander, desilter, mud cleaner, mud agitator, cuttings dryer, centrifugal pump, screw conveyor and mud tank etc.
Last month, GN Solids Control finished manufacturing of one batch mud agitators for one offshore drilling rig platform. Consider the heavy duty mud, GN Solids Control provides helical bevel gerabox reducer for these mud agitators.
GN Solids Control manufactures mud agitator with single impeller, double impellers or multiple impellers. The shaft length of the mud agitator is customized based on customer's mud tank depth.
GN mud agitator keeps the drilling mud from sediment, and plays a very important role in mud mixing, preparing and storage. GN Solids Control also provides control boxes to match the mud agitators, explosion proof includes IEC Ex, ATEX, CNEX etc.

In order to use in the offshore platform, GN Solids Control use PPG painting to cover the mud agitators with 3 layers which can keep sea moisture rusty from long time usage.
Besides the mud agitators, GN Solids Control has also been providing the other types of solids control equipment like decanter centrifuges and shale shakers for offshore drilling platforms. GN Solids Control made DNV lifting certified equipment is able to move safely and conveniently, the DNV lifting pad and supporting frame can be added optionally.
Now GN Solids Control has many solids control equipment in stock, once we received the order, we can just buy the motors and put the control boxes, tested and get it to delivery very fast. Welcome to connect with GN Solids Control for any drilling mud solids control and drilling waste management equipment inquiries.