GN Solids Control is a leading construction mud treatment system provider with customers from over 85 countries and regions. Several weeks ago, GN engineer visited one Australian construction company and got a very positive feedback on the GN mining vibrating screen and decanter centrifuge's excellent working performance.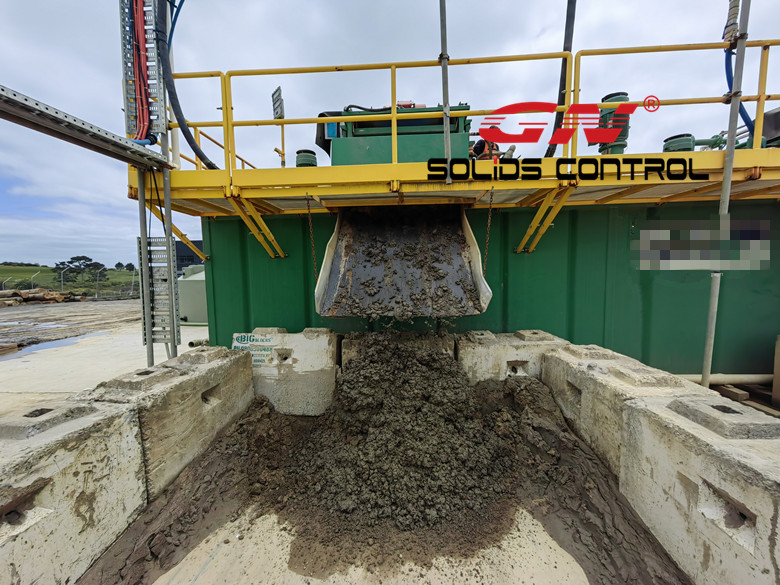 1.GN Mining Vibrating Screen
GN Solids Control manufactures different types of vibrating screens, such as dewatering screen, classification screen, stack vibrating screen, large linear vibrating screen, large banana vibrating screen etc.
GN Solids provides one sets of dewatering vibrating screen for this Australian construction company who owns more than 20 sets hydrovac trucks that can bring min. 100 tons slurry or waste from different sites.
This vibrating screen is especially designed to remove big particles larger than 2 mm before feeding into GN fine shaker unit (includes a double deck fine shaker and a desilter). A big catch hopper is able to collect two hydrovac trucks to dump at the same time, and a manual control gate valve to adjust the dump feeding volume into the big vibrating screen.
2.GN Decanter Centrifuge
GN decanter centrifuge is especially designed to remove the finest particles from the hydrovac slurry, with a big G force upto 3000 G, silts larger than 2~5 microns can b recovered.
As for this construction company, GN Solids Control provides one 22 inch bowl decanter centrifuge, which is able to treat at least 30 m3/h slurry with 20 % solids content. To help the centrifuge use a long time without weariness, GN Solids Control use tungsten scrapers and inserts to protect the solids discharge ends. Optional flushing lines can be also built on the centrifuge's collect box to flush the solids discharge ends and reduce the solids abrasion.
GN Solids Control has rich experience to provide solids and liquid separation for varieties industries, welcome to reach to GN for the most cost-effective solution.