GN Solids Control just finished manufacturing and testing of one set 1000HP drilling rig solids control system for one Middle Eastern company who will use it in New Zealand next month.
With the rich experience on oil and gas drilling mud solids control and drilling waste management, GN Solids Control is proud to have another successful 1000 HP drilling rig solids control system for a happy customer. So below are the treating equipment in this mud solids control system: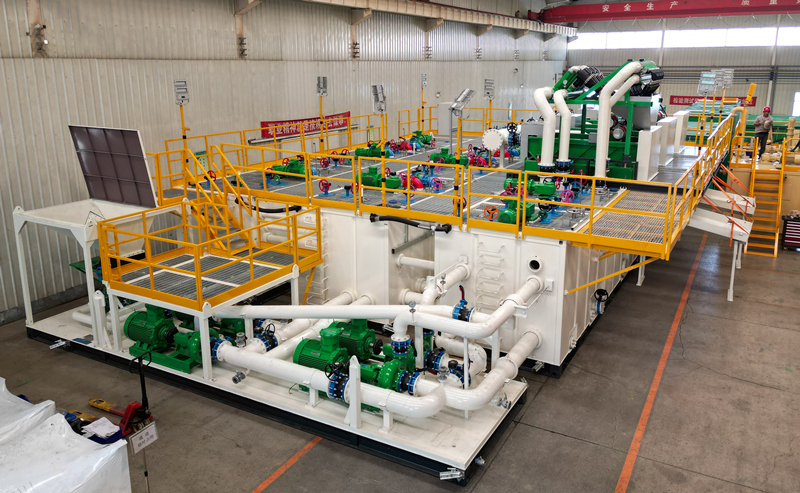 1.GN Shaker Tank
Shaker tank is divided into shaker compartment, desander compartment, and desilter compartment. Two parallel shale shakers connected by a pipe line type mud distribution box to convey the drilling mud on to shaker screens evenly, so the big particles can be removed before feeding into cyclones.
For convenient control, manual butterfly valves are fixed on the main ports so they can be turned on or off to change the mud flow. And a mud cleaner fixed with desander cyclones and destiler cylones can be also used to run accross the cyclones and play as a 3rd unit shaker in case the suddenly mud flow rate increase.
Two centrifugal pumps fixed on the side of the shaker tank to feed into desander and desilter separately.
2.GN Mud Storage Tank
Two storage tanks are laying parallel to the shaker tank from where the after treated clean mud are moved. Every mud storage tank is fixed with 3 units mud agitators to keep the mud from settling.
A customized big jet mud mixer is used to add new drilling chemicals or additives from the mud hopper where standing platform is used to carry big bags. And two parallel centrifugal pumps are connected with the venturi hopper, either pump can be used as the feeding pump.
Besides the above mentioned main module, GN Solids Control also provides some auxiliary parts like mud gun, light etc. More importantly, all the explosion proof standard control boxes are also provided by GN Solids Control.