This week, GN completed the factory test and delivery of one set decanter centrifuge GNLW364ET-VFD, which will be used for sewage treatment in a foreign meat processing plant.
Decanter centrifuge is commonly used solid-liquid two-phase separation equipment. In the production process of many food plants and meat products plants, some sludge is often generated. This kind sludge cannot be directly discharged into the municipal sludge drainage pipeline. Dewatering treatment is required in advance to separate as much solid substance as possible to obtain relatively dry sludge, which is convenient for subsequent transportation and further drying treatment.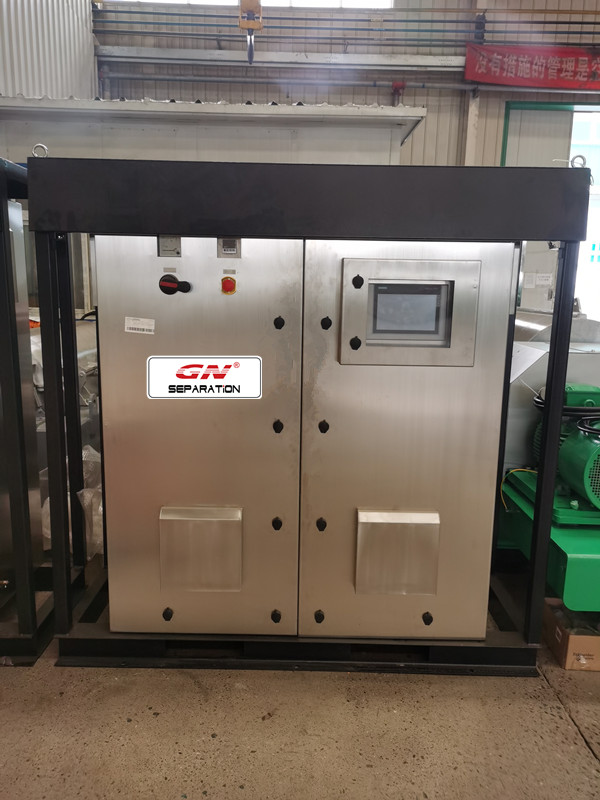 GN Sludge Dewatering Centrifuge is driven by dual motors, and the dual motors use the DC common bus operation principle, which can save energy consumption during equipment operation. The rotating assembly of the decanter is composed of a rotary bowl and an internal screw propeller. Slag is discharged through the speed difference between the bowl and the propeller. The bowl speed and differential speed can be set on the touch screen of the variable VFD control panel equipped as standard by GN according to different material conditions and treatment effects. The frequency converter of main and auxiliary motors is equipped in the VFD control cabinet to start smoothly and protect the motor. According to the customer's requirements, the frequency converter of the slurry pump can also be equipped to control the feeding speed.
In terms of structural design, GN sludge dewatering centrifuge places two motors at one end of the equipment, and the other end is arranged with feeding tube. This structure is easy to install and maintain, and can also provide operators with equipment operation space.
There are many organic substances in the sludge generated during the processing of meat products plant, which has strong water absorption and is difficult to separate. If you want to achieve better separation effect and clarified liquid, you need to use high-performance flocculants to flocculate the sludge in advance. Then, in the process of separation, it is necessary to select an appropriate differential speed to discharge the solid phase from the bowl. The chemical dosing unit of GN Company is often used in the sludge dewatering production line. Because of its excellent performance, it is adopted by many users.