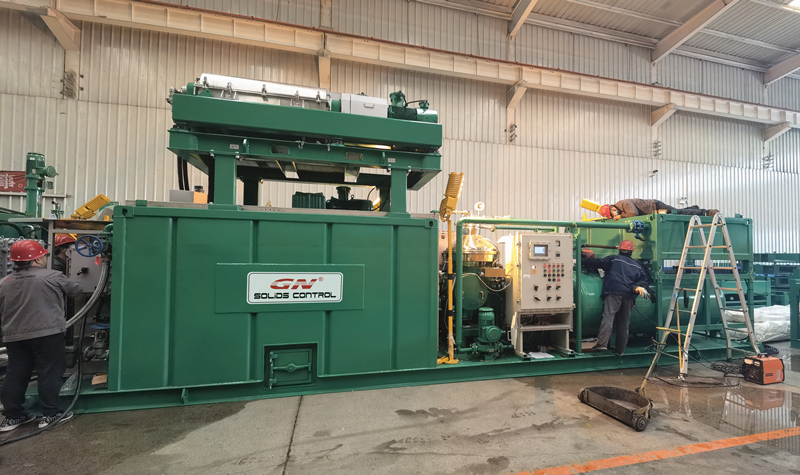 Oil sludge is one of the most difficult treating material in the oil & gas industry, with many years' successful experience, GN Solids Control is able to provide more and more oil sludge treatment package system.
This April, GN Solids Control finished another set 5 m3/h oil sludge treating unit for a Kazakhstan client. GN Solids Control builds standard 2 m3/h, 5 m3/h and 15 m3/h oil sludge treating systems, and GN Solids also able to provide customized turnkey oil sludge treating unit to meet different clients' demands.
1.20Ft Pre-mixing Module
Due to oil sludge is not easy to move and has big viscosity with heavy solids, GN Solids Control provides one pre-mixing unit fixed with 2 mud agitators to mix the oil sludge with hot water and chemicals. Along the tank, curve pipes are fixed so it cnan be used to feed hot oil or water.
After dilution, oil sludge is easy to move by submersible pump into the afterwards shaker separation module.

2.Shaker Separation Module
GN Solids Control manufactures multiple shale shakers to remove big solids from the liquid. In this 5 m3/h oil sludge treating system, GN Solids provides one double deck shaker so the oil sludge can be treated twice and be removed most of the solids.
GN Solids Control also builds shaker screens to fit GN shakers, besides GN brands shakers, other world famous brands shakers can also use GN made shaker screens which strictly comply with API RP13C standard.

3.Decanter Centrifuge and Disc-Separator Module
Decanter centrifuge and Disc-Separator are the two key treating equipment in the oil sludge treating. GN 2 Phase horizontal decanter centrifuge remove most of the solids after treated by GN shaker from the drilling mud, while GN 3 phase disc-separator further treat the clean drilling mud to get oil, water and solids separately.