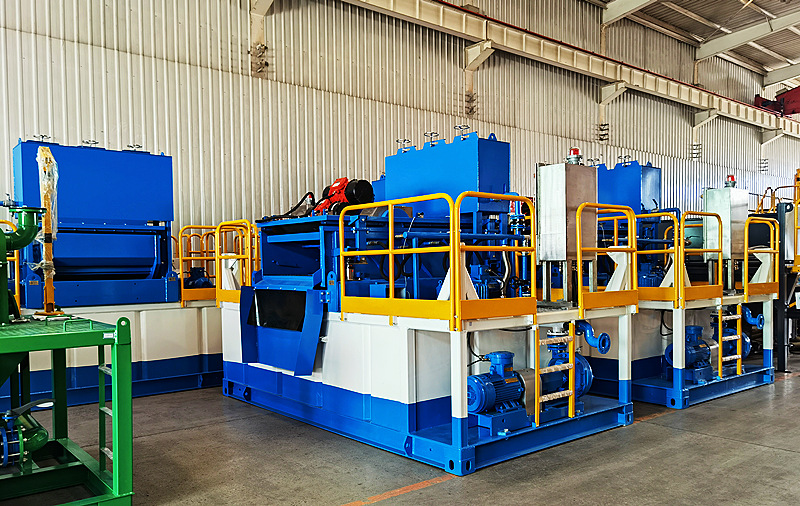 GN Solids Control has provided many sets of drilling cuttings drying shakers to the offshore drilling service companies for many years. With hundreds of successful GN made solids control and drilling waste management equipment using in the world, GN Solids Control is getting to known by more and more drilling waste management companies, drilling contractors etc.
This March, GN Solids Control finished manufacturing of 3 sets offshore drilling cuttings drying shaker units for COSL. Every unit mainly includes the following GN components:
1.GN Hi-G Drying Shaker
GN Hi-G Drying Shaker is a 4 panels shaker, fixed with 2 horizontal vibrators to keep the shaker running in linear direction. GN Solids Control only used Italy OLI or USA Martin vibrators, which are proven work steady with GN shakers in harsh environment.
GN Solids Control build single deck and double deck shakers, which are function well in different rig sites. To keep the shaker screens from blocking, GN smartly fix spraying nozzles to flush the screens after use for a long while, also the anti-spraying cover protect the splashed drilling mud everywhere.
Feeding box is customized for this offshore drilling shaker. It includes 3 manual valves to control and feeding volume into the shaker.

2.GN Mud Tank
GN mud tank is build according to the offshore standard, the mud tank compact with a DNV standard lifting frame. And mud tank is painted strictly according to the offshore working environment.
3.GN Centrifugal Pump
GN centrifugal pump fixed on the side of the mud tank, which can be used to move the after treated drilling mud from the drying shaker. GN centrifugal pump is totally interchangeable with NOV Mission Magnum pump. While it is with a good wear resistant and long time usage advantage.
4.GN Mud Agitator
To keep the drilling mud from sediment in the shaker tank, a GN mud agitator is fixed on the top of the tank