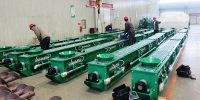 GN Solids Control as a leading solids and liquids separation and transfer equipment manufacturer who has long experience of building screw conveyors. Every year, GN Solids Control shipped over hundreds of screw conveyors to worldwide customers.
This month, GN Solids Control finished manufacturing of some sets screw conveyors company with Kuwait Safety Standard of drilling company. GN Solids Control also builds screw conveyors and some other solids control equipment comply with other working standard.
According to Kuwait Safety Standard, all these screw conveyors should meet the following demands:
1.Steel Grating Cover Plate: Easy to check the drilling cuttings moving inside, and if need to clean, the grating cover plate can be removed.
2.HSE Safety Sign: HSE is vital important for all workers, with GN HSE safey sign it shows clear of what the worker should be always pay attention to.
3.Emergency Stop Pull Switch: in case of emergency, operators can stop the conveyor by pull the strip along the whole way of the conveyor.
4.Spraying System (Anti-Clog): Sometimes when the drilling cuttings has too much solids inside, and can not move smoothly or may be some sticky drilling mud run along the auger, GN spraying system is effectively used to add new fresh liquid to flush and clean.
5.Anti-collapse Steel Grating Design

GN screw conveyors are one of the most cost-effective transfer unit under certain working distance especially largely used for drilling cuttings collecting and transfer. Every GN screw conveyor is composed by multiple sections with each section length of 12ft. Based on the working transfer distance, GN Solids Control also provides customized length.

Sometimes, GN Solids Control also provides alarm and light to rise the attention for all nearby workers before starting and after starting for a little while.
GN Solids Control also provides explosion-proof motors and control boxes for this Kuwait company. As a leading solids and liquid speartion manufacturer, GN Solids Control has been provides many sets of shakers, decanter centrifuges to Kuwait drilling contractors.