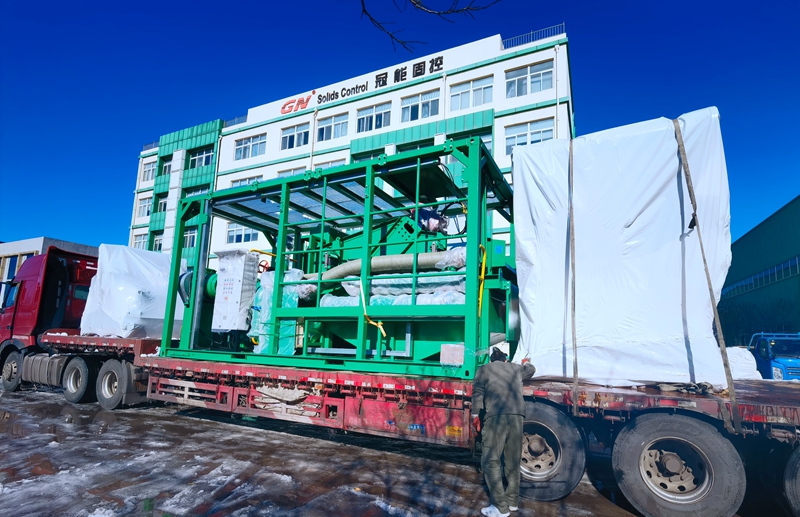 GN Solids Control has been providing slurry separation equipment for many years to global drilling contractors. Last week, GN Solids Control delivered one set of GNTBM-360 slurry separation plant to a pipe jacking engineering company.
Several months ago, GN Solids Control also provided one GNTBM-240 to a South American client. Most of these systems have similar design, they mainly includes the following treating components:
1.Shale Shaker
Shale shaker is the first phase to remove big particles from the mud. GN coarse vibrating shaker is fixed with opening mesh polyurethane screens which last longer when remove different sizes of stones or aggregates.
2.Desander
GN Solids Control uses 18 inch sizes cyclones to remove slurry after treated by coarse shaker, 2 pcs desander cones are fixed on the top of a finer shaker.
After treated by the desander, slurry falls onto the screen panel, which vibrate under the liner force of min. 7 G. Here weaving shaker screens are used, all are made by GN Solids Control. GN is able to build over 8000 pcs per month, and screens are tested by USA 3rd party in order to have the ideal precise cut point and conductance area.

3.Desitler
Multiple 4 inch desilter cyclones are also fixed on the top of a finer shaker, a feeding pump suck the slurry and pump into the 4 inch desilter cyclones where most of the solids larger than 25 microns can be removed.
4.Feeding Pump
GN Solids Control provides different types of feeding pumps, such as centrifugal pump, submersible pump and vacuum pump etc. In this pipe jacking engineering, GN Solids Control used two slurry feeding pumps, which are wear-proof to transfer high solids content slurry.

5.Compact structure with storage tank
A compact structure to hold all the above treating equipment, with necessary walkways, ladders or safety guide rails. Mud storage tank has level sensor to keep the slurry in a reasonable level by control the on or off of the slurry pump. Whole system is easy to move or transport.