GN Solids Control shipped 3 sets double deck linear motion shale shakers and 1 set mud cleaners to one European drilling rig contractor last weekend. With these years' upgrading, GN Solids Control now provides the F version shakers with the most satisfying working performance and convincing quality.
All these GNZS706 shakers that GN Solids Control manufactured are double deck shakers with totally 6 pcs (each deck 3 pcs) screens: tob deck working area is 2.0 m2 and bottom is 2.6 m2 which is 4.6 m2 working areas.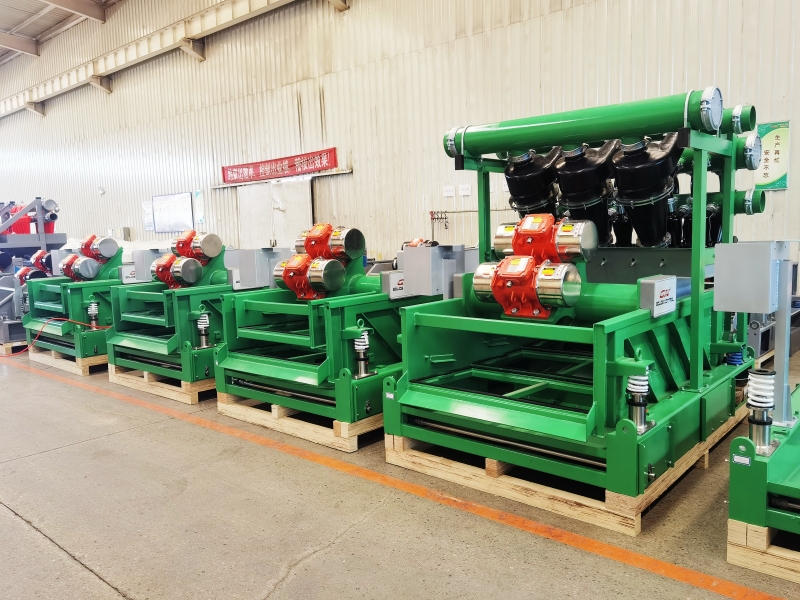 When a GN shaker is fixed with 2 decks' screens, usually the top layer is the coarse deck which can remove big particles, and the bottom layer play as the second step to remove finer particles. However, when a shaker fixed with hyhrocyclones, the working process will be different, bottom layer separation first before feeding into cyclones and then the top layer screens separate again.
This European drilling contractor has some old NOV Brand VSM 300 shakers before, when they are considering to upgrade them they choose to use GNZS706 double deck shakers.
GN Solids Control made GNZS706 double deck shaker, easy and convenient to replace new screens by the fast wedge press units, save at least 30% total to replace screens compared to the tradition method.
With a large separating room, GN Solids Control shaker GNZS706 runs under linear motion with max. 7.2 G force, meet the demands of drilling mud solids control for large onshore drilling rig and offshore drilling rig during fast exploration.
GN Solids Control manufactures and sells over 300 sets shale shakers every year, besides these standard equipment, GN Solids Control also provides turnkey customized systems with multiple shakers or mud cleaners fix on the top of a mud tank, includes all in and out pipe lines, with centrifugal pump fixed on the tank bottom, and mud agitator or mud hopper on the mud tank for option usage.