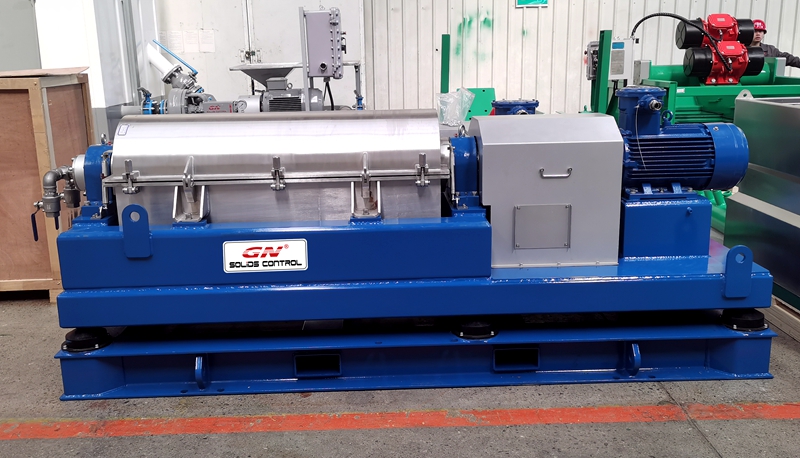 GN Solids Control last week shipped another batch of centrifugal mud pumps and oilfield centrifuges to an international drilling company. GN Solids Control is a turnkey solids and liquid separation equipment manufacturer who has rich years of experience on design, manufacture the most cost effective solutions.
GN Solids Control provides 2 sets 14 inch bowl decanter centrifuge GNLW363CG to this drilling company. Usually when 2 centrifuges are using together, the first one is used to remove solids by volume and the second one is used to remove solids by particles. 2 sets GN centrifuge can be used for high gravity drilling mud or low gravity drilling mud treating, or can be used for barite recovery.
GN fix speed decanter centrifuge GNLW363CG, rotating speed can be changed by using different pulleys and belts although takes time. GN Solids Control also provides variable speed decanter centrifuge, all the main working parameters can be adjusted easily in the HMI of the VFD box, meanwhile running status and alarms are monitored.
In order to remove fine particles from the drilling mud, GN Solids Control provides chemical dosing unit so the solids less than 5 microns can be removed.
Besides these 2 sets GN decanter centrifuges, GN Solids Control also provides 16 sets centrifugal pumps, include 4 sets GNSB4x3C-11J, 6 sets GNSB6x5C-13J and 6 sets GNSB8x6C-14J.
GN made centrifugal pumps are totally interchangeable with NOV Mission Magnum pump. To protect the centrifugal pump and impeller from weariness, GN Solids Control use hard ductile iron alloy.

GN centrifugal pumps are widely used to feed slurry into desander or desilter, and they can be also used in the jet mud mixing unit, or play as a trip pump.
Besides GN decanter centrifuge, centrifugal pumps, GN Solids Control is able to provide the shale shaker, vacuum pump, shaker screen, cuttings dryer as well as big oil sludge treating system, drilling mud storage plant etc.