Leading separation equipment manufacturer GN Separation recently participated in the 9th Guangzhou International Aggregates Technology & Equipment Expo.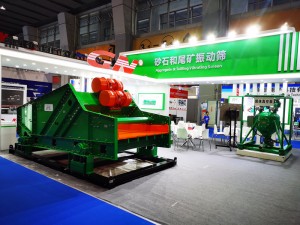 The expo, held last week, attracted numerous companies in the aggregates industry. GN Separation occupied a 135 sqm booth located in Hall 2.1.
Aggregate refers to materials like sand, gravel, crushed stone and aggregates used extensively in construction, especially for concrete and masonry in water infrastructure projects. Crushing and screening equipment plays a key role in aggregates production.
At the exhibition, GN Separation featured several offerings tailored for these applications. A highlight was their large double layer banana screen for dry or wet screening/desliming. It adopts an angled, multi-segment screen surface for efficient material movement and separation.
Also on display was GN's linear dewatering screen with a folding design at the feed end to promote rapid dewatering. Non-welded segmented panels and hydraulic tensioning ensure durability.
Rounding out their solutions was a solid vacuum pump for pneumatic conveying of high-solids content mud, minerals and fines.
By participating in the expo, GN Separation demonstrated their expertise in aggregates processing equipment. Visitors gained valuable insights into GN's comprehensive portfolio and separation technologies. The event reinforced GN's leadership in supplying customized solutions to mining and construction industries worldwide.