GN Solids Control participated in the 2023 CIPPE Beijing Oil Show last week from May 31st to June 2nd in Beijing New Exhibition Center. The 2023 CIPPE Beijing Oil Show is one of the world largest oil and gas shows in the world, with thousands of exhibitors and professional visitors from the oil and gas industry to share latest technology with newly developed equipment or products.
GN Solids Control has been participating the CIPPE for many years, and this year GN Solids Control brought double deck shale shaker, vacuum shaker, vacuum pump, cuttings dryer, decanter centrifuge, screw conveyor to this show.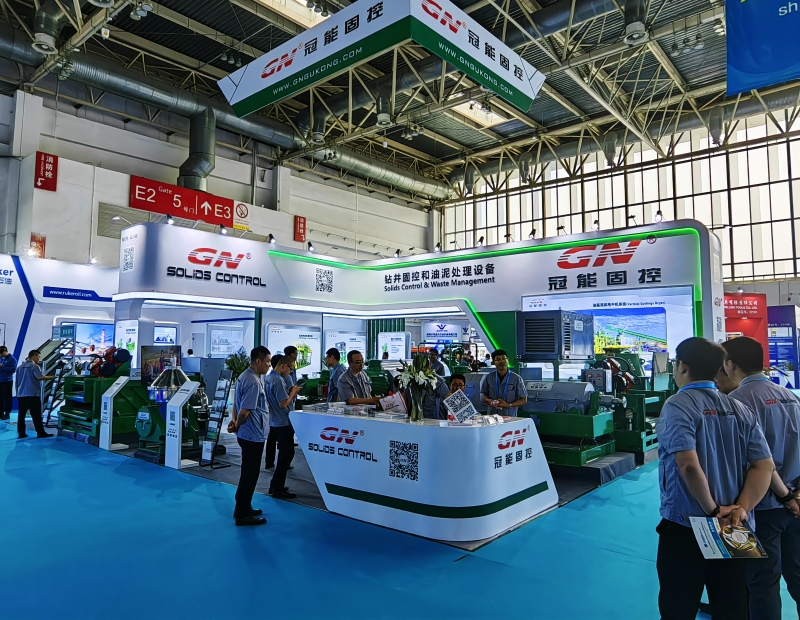 GN Double Deck Shaker
GN double deck shaker is a shaker fixed with 6 pcs screens with top coarse deck and bottom fine deck. GN double deck shaker is mainly used to remove oil cuttings in a large treating capacity but with a small footprint.
GN Decanter Centrifuge
GN Solids Control brought one 14 inch bowl 3 phase decanter centrifuge and one 22inch big bowl 2 phase centrifuge. GN Solids Control has been working on solids and liquid separation since 2008, and as the key treating equipment, GN decanter centrifuge is able to remove finer particles around 2-5 microns.
GN Cuttings Dryer
GN Cuttings Dryer is the most cost effective treating equipment when speaks of OBM and SBM. After treated by GN cuttings dryer, oil on the final cuttings can be controlled less than 5 % from 20%.
GN Screw Conveyor
Screw conveyor is a transporting unit to collect drilling cuttings from shaker, desander, desilter and decanter centrifuge as well as cuttings dryer, it is especially used to transfer high percentage solids of drilling mud.
GN Vacuum Shaker
Vacuum Shaker is also called "ViST" by GN Solids Control. It is one shaker fixed with a catch tray underneath the last panel of shaker which connected to a vacuum pump unit. GN Solids Control brought one electrical driven unit so no need to worry about air source at the rig site.
The 2023 CIPPE was a great show, thanks for all GN visitors and we are looking forward to see you again next year.