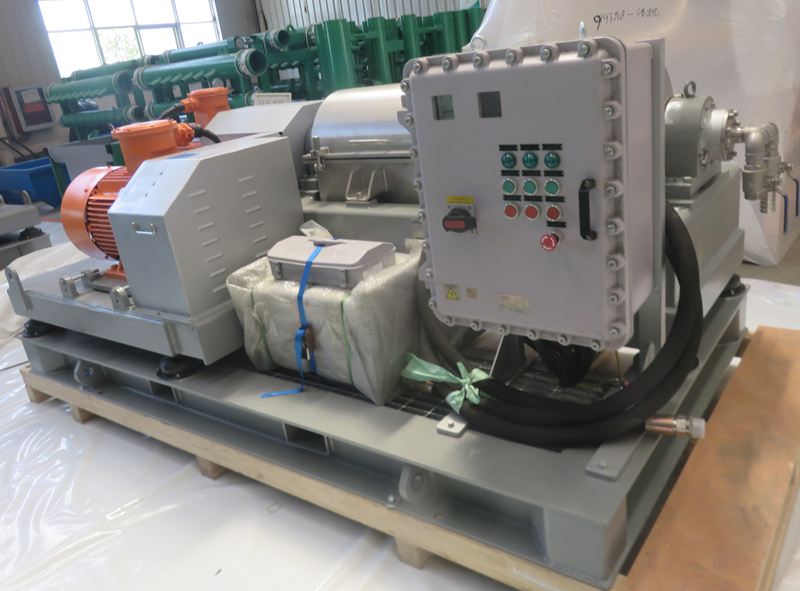 GN Solids Control has been manufacturing decanter centrifuges to treat drilling mud over decades, with these years thousands of successful decanter centrifuges using in drilling rigs sites, GN Solids made decanter centrifuge become the most cost-effective brand on drilling mud control.
This week GN Solids Control finished manufacturing of 2 sets high speed decanter centrifuges to treat low gravity drilling mud. Basically, there are 3 main usages in the oil and gas drilling mud control area:
1.High Gravity Solids Separation
Usually middle rotating speed decanter centrifuge is used, like GN Solids 18 inch bowl decanter centrifuge is largely used in HGS treating. As the barite recovery, GN Solids Control also has even lower speed decanter centrifuge to provide the G force of 700-1000.
2.Low Gravity Solids Separation
In order to remove low gravity solids (LGS), GN Solids Control provides high rotating speed decanter centrifuge.
3.Drilling Waste Treatment
GN Solids Control also builds drilling waste management systems include decanter centrifuge and cuttings dryer. Either modular drilling waste equipment or whole skid system can be provided based on customer's demands.
As for these 2 sets high speed decanter centrifuge, they are both 14 inch bowl centrifuge GNLW363 with the rotating bowl made of duplex stainless steel and the screw propeller protected by tungsten carbide tiles.
Besides the oil and gas drilling mud control and drilling waste treatment, GN Solids Control also provides environmental protection treating equipment like mining vibrating screen, hydrovac slurry dewatering system, industrial water separation centrifuge includes 2 phase centrifuge and 2 pahse disc-separator.
GN Solids Control is a turkey solids and liquid separation provider, with USA branch company GN Solids America LLC and some other world wide partners, GN Solids Control is able to provide timely after sales support and spare parts & wearable parts quick delivery. We always have the tight solids and liquid separation solution for you!